MOCAST 2018 
The conference Dinner will be offered at the restaurant Dore Zythos "ΝΤΟΡΕ ΖΥΘΟΣ" in the area of white tower. (address:  Τσιρογιάννη 7)
Advanced registration is required.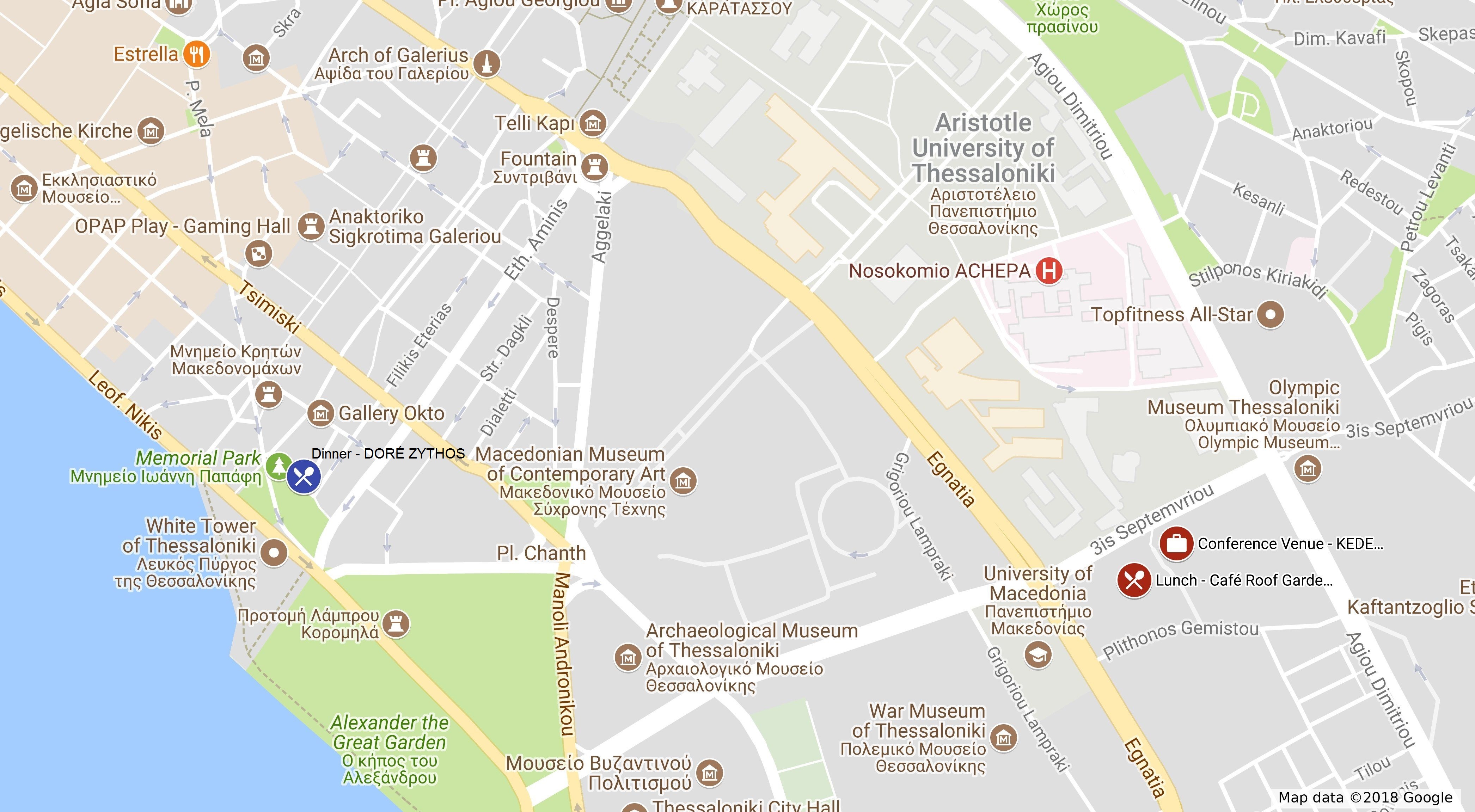 -------------------------------------------------------------------------------------------------------------------------------------------------------------
Thessaloniki Walking Tour (Roman and Byzantine Period)
Join this tour and explore a city with a long history reflected in its important monuments, streets, squares, neighborhoods and secret corners. This is a tour for the fascinating history of Thessaloniki.
Initially, our first stop is in the Rotunda, which was a massive circular structure with a masonry core that had an oculus like the Pantheon in Rome. It has gone through multiple periods of use and modification as a polytheist temple, a Christian basilica, a Muslim mosque, and again a Christian church (and archaeological site).
After the Rotunda we will visit the famous Acheiropoietos-Basilika Church. It was built on the 5th century. It is dedicated to the Holy Mother of God. Being a three-aisled basilica with a wooden roof, it is a beautiful sample of Paleo-Christian byzantine architecture.
Finally we will make a stop at the Paleo - Christian temple of Agia Sophia, one of the most impressive Byzantine churches of Thessaloniki. Located in the center of the city as well, it is a very beautiful "Domed Basilica" style temple with an imposing architecture, beautiful wall paintings and elaborate mosaics. Read more
( http://www.inthessaloniki.com/en/agia-sofia#ixzz3uTLiaerC , http://www.inthessaloniki.com/en/panagia-axiropoiitou#ixzz3uTLuFu5i , https://en.wikipedia.org/wiki/Arch_of_Galerius_and_Rotunda )
Highlights
Step back in time on a history tour


Visit significant monuments of the Roman and Byzantine period

Our guide will be there to give you information for the history of Thessaloniki and answer to your questions

Visit Rotunda, Agia Sophia and Acheiropoietos Basilika Church, three very important monuments of the period

Take a look at the impressive Arch of Galerius


Schedule and pricing
Date: May 7, 2018
Departure Time: 17:00
Return Time: 19:00
Meeting Point: Conference Venue
Price: 30€ per person
Minimum participants: 20 persons
Inclusions
Professional guide
Entrance fees are not included
Vergina Tour
Vergina (Greek: Βεργίνα) is a small town in northern Greece, located in the regional unit of Imathia, Central Macedonia. Since the 2011 local government reform it is part of the municipality Veroia, of which it is a municipal unit. The town became internationally famous in 1977, when the Greek archaeologist Manolis Andronikos unearthed what he claimed was the burial site of the kings of Macedon, including the tomb of Philip II, father of Alexander the Great. The finds established the site as the ancient Aigai. The site of the Royal Tombs under a modern roof hosts the main excavation, as well as an exhibition of the major finds from the burials. It is protected by UNESCO as world cultural heritage and comprises a unique discovery of an enormous universal impact. Don't lose the opportunity to visit this archaeological treasure of Macedonia! After the tour we will visit a local restaurant, where you can enjoy your lunch!
Read more(Wikipedia - the free encyclopedia, Visitgreece.gr - the official tourism web site for Greece)
Highlights
1-day Greece tour to Vergina, departing from Thessaloniki
Enjoy a guided tour of Vergina

Visit the Tomb known as the Tomb of King Phillip

II and the finds of the other Tombs

Visit the museum of Vergina

Feast your eyes on the marvelous treasures

Taste greek receipes in a local restaurant
Schedule & Pricing
Date: May 8, 2018
Departure Time: 09:00
Return Time: 16:30
Meeting Point: Conference Venue
Price: 53€ per person
Minimum participants: 20 persons
Inclusions
Transport by air-conditioned coach
Professional guide
Lunch
Museum entrance   fee is not included
Meteora Tour (Pre Conference Tour)
We will start in the morning our trip, heading to our final destination, Metéora. The Metéora (Greek: suspended rocks, suspended in the air or in the heavens above – etymologically similar to "Meteorite") is one of the largest and most important complexes of Eastern Orthodox monasteries in Greece, second only to Mount Athos.
The six monasteries are built on natural sandstone rock pillars, at the northwestern edge of thePlain of Thessaly near the Pineios River and Pindus Mountains, in central Greece. We can locate the first traces of their history from 11th century, when the first hermits settled there. The rock monasteries have been characterized by UNESCO as a unique phenomenon of cultural heritage and they form one of the most important stations of cultural map of Greece.
We will have lunch at Kalampaka a small town nearby.
On our way back to Thessaloniki, we will also have the chance to visit Tempi valley and the famous Pineios river.
Read More
Wikipedia – the free encyclopedia
Schedule & Pricing
Date: May 6, 2018
Departure Time: 08:30
Return Time: 20:00
Meeting Point: Conference Venue
Price: 70€ per person
Minimum participants: 20 persons
Inclusions
Transport by air-conditioned coach
Professional guide
Lunch
Monasteries Entrance fees
Are not included